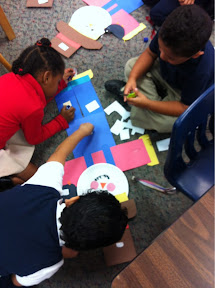 I was looking back through my photos from the last couple weeks and this one just stuck out to me... I think it is so sweet how they take care of each other... Makes my heart smile!!
I don't know what was wrong with me these last few weeks but I just couldn't remember to take pictures of all the fun we have been having... Here is what I did manage to capture!! :)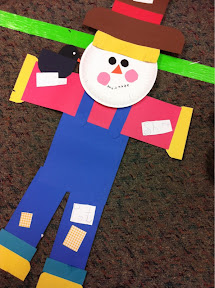 We made Deanna Jump's Scarecrow and completed the book that goes on his belly! We have been working on labeling so we added labels to our scarecrow's body. :) oops- just noticed my toes... I soo need a pedi!! :)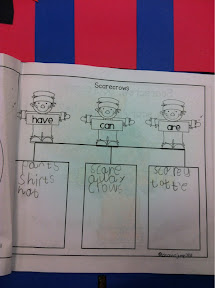 Here is the Roll Say Keep (Stamp) game we did during small group - they really got into the stamping part. :)
We did the Haunted House Patterning activity - they loved using the foam halloween shapes I found at The Dollar Tree. :)
We made Frankie and ended up using his as our door decoration!!
We have been discussing positional words in Math and my kiddos loved the Halloween position word with a Twist activity by Sue eth Arnold and Robynn Drerup! I can't figure out how to link up to them on my phone so if you want the link - send me an email and I can send you in the right direction. :) for a follow up we made an entry in our Math Journal and I was really impressed with how cute their little drawings were!!
Deanna's Sticky Web Experiment was also big fun for my babies this week. This was one of those "forgotten camera" moments. Oops!! :)
I hope you all have a restful weekend! My daddy is here for a visit and my baby girl is excited beyond belief. She loves her grandpa!! :)
This was a few weeks ago at the airport on our way to visit friends in Florida!! :)