I just didn't have the energy last night to post about all of our fun we had yesterday but it is Friday night.... I have my beverage of choice.... Coffee people!! :) and I can actually think about what actually did happen on Thursday!!
Here are the kids as they came into the room and found the foot prints. :)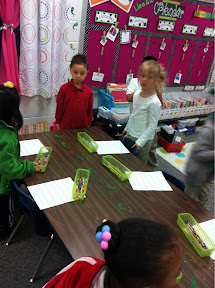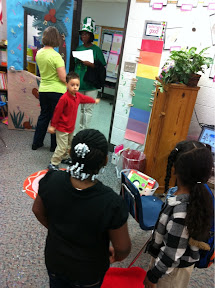 We decided to write the leprechaun a letter to tell him how we felt about his actions throughout the week!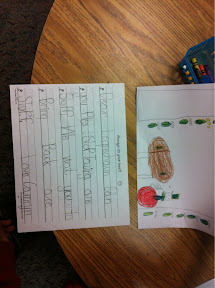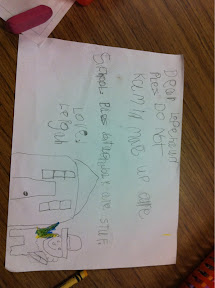 This is what we found when we came back from our bathroom break. :)
So of course we had to take him up on his offer!! :)
That sneaky leprechaun did end up coming back to our room to try and leave the school how he came in! Of course it was while we were away at specials and I walked in just as he was trying to sneak out the window!! We tussled just long enough for me to be covered in glitter!!
In all the fun I forgot to snap a picture of the mess he made. He did leave us all the green stuff he took during the week and some gold coins. :).
To end the day we completed an activity to add to our adorable Leprechaun Glyphs we made. Thanks Deanna Jump!! :) i recreated the share your gold activity to make it work for us. :)
The kids each rolled to see how many coins they would have to share. They then collected that many coins and got busy making them into coins and sharing them. Once they were finished my wonderful para added sone glitter! Everything is better with glitter!! :)